Keeping Campus Deliveries Safe & Simple, Post-Pandemic
We've all learned so much over the past year, and literally every aspect of campus life has changed. Even the campus experience has evolved to become more focused around safety.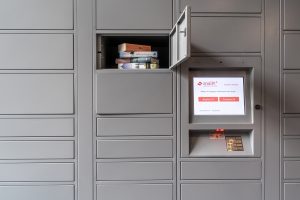 During the Covid-19 pandemic, countless colleges and universities introduced electronic smart lockers as a means to provide safe and secure delivery and storage options for students and staff. From smart parcel lockers in Charlottetown, to contactless lockers in Burnaby, touchless smart lockers have become an integral part of the campus landscape and the student experience.
Safer and Smarter Student Amenities
Colleges and universities traditionally offer student amenities that are all about fun: state-of-the-art exercise facilities, great performing arts and music venues and a lively on-campus social scene. And while those amenities are still important, the need to be able to offer students a safe place to live and learn is now front and centre. Because of this, smart package lockers are now commonplace on campuses and in student residences.
No matter what city you're in, there will likely be digital lockers located on or near a college or university campus. That's because touchless smart lockers provide students and staff with a way to store packages, share resources and accept deliveries without face-to-face contact.
The Future of Campus Deliveries Has Arrived
Schools from coast to coast have already partnered with Canadian-made Snaile Parcel Lockers for their on-campus delivery and storage needs. These lockers can be installed indoors or out – near administrative offices, gyms, libraries, student residences – literally anywhere students and staff need convenient and safe 24/7 access to parcel storage and deliveries. Best of all, Snaile parcel lockers can be fully integrated with the school's existing property management or student management systems for an extra layer of safety and protection.
Providing the Best for Your Students
Touch-free Safety – Digital lockers open automatically by inputting a PIN or scanning a QR code directly from a smartphone
Advanced Security – Snaile Parcel Lockers are designed with industry-leading security features in place including cameras, industrial-grade components, infrared content sensors and more
Around-the-Clock Convenience – touchless smart lockers are accessible 24/7 and can be installed virtually anywhere
Fully Customizable – Snaile electronic lockers are available in standard configurations or can be ordered to fit your space. There is even a choice of paint colours and finishes to complement any existing space
Now, more than ever before, the safety and security of students is paramount. Electronic delivery lockers have proven to be a safe, secure and easy-to-use solution for campuses across Canada. Look for "contactless parcel lockers near me" and you'll find Snaile Lockers at schools from coast to coast, with contactless lockers in Burnaby, Calgary, Toronto, St. John's and all points in between.