Stopping the Apartment Lobby Package Pileup
Apartment lobbies are designed to be open, welcoming spaces. A well-designed lobby should give visitors an attractive first impression of the building, and provide tenants with a safe and secure entrance. Unfortunately, apartment lobbies have lately become an impromptu storage space for package deliveries, and this problem is compounding with the ever-increasing number of parcel deliveries. A digital locker service is the solution apartment managers need to manage lobbies being dangerously overloaded with incoming parcels.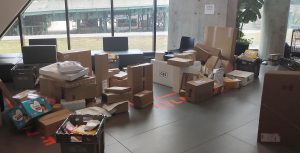 It is not unusual for larger buildings to receive upwards of 100 package deliveries every day. During the holiday season and lockdown periods, numbers can climb even higher and property managers have to find the time and people to manage these deliveries on top of their regular maintenance duties. With solutions such as contactless smart lockers in Burnaby, Snaile is solving the problem for condos and apartment buildings right across Canada.
SnailE touchless smart parcel lockers provide a package management solution that can eliminate the problem of lobbies congested with parcel deliveries. Electronic lockers can be customized to fit existing lobbies, and the technology allows carriers to lock the deliveries away in a secure space. Then, residents use one-time digital access codes to retrieve the packages on their own schedules. With a bank of lockers in a range of sizes, this system can be used for all types of packages – from small envelopes to larger purchases, and even meal deliveries.
How a Digital Locker Service Benefits Property Managers
Retrieving, sorting, and delivering parcels to residents not only requires time and human resources, it also leaves property managers liable for damage or theft. In addition, parcels left in hallways, lobbies, and vestibules are fire code violations which will lead to fines. Snaile touchless smart parcel lockers provide a streamlined process for couriers and delivery services while reducing liability for owners and administration.
Why Residents Love Contactless Smart Lockers in Burnaby
A touchless locker service in apartments and condominiums eliminates the inconvenience, danger, and eyesore of packages piling up in apartment lobbies
Snaile smart lockers are accessible 24/7, giving tenants the freedom to retrieve packages on their schedule without having to sign for deliveries or coordinate their parcel pick-up with building staff
No more risk of having important packages stolen or damaged by visitors or other tenants
Touchless smart parcel lockers provide a contact-free option and can be configured and monitored to ensure physical distancing
If the safety and security of your tenants is compromised by an abundance of parcel deliveries, contact Snaile's Customer Integration Specialists. Once installed, Snaile's Onboarding Specialists are available to help maintenance staff and tenants become acquainted with the new smart locker system, and offer ongoing locker support via phone, web, and onsite next-business-day service.