How Parcel Lockers Minimize Parcel Management Issues
Online shopping can be a huge timesaver for busy office workers, but it is creating big problems and huge headaches for business owners and managers. Many employees arrange to have packages shipped to the office to avoid having the parcel damaged or stolen when left at their residence. But when multiple employees are having numerous packages delivered to the office every day, it is easy to see how mailroom chaos can quickly occur. The solution? An automated locker system that includes an outdoor parcel locker. This is a fast, convenient, and secure "click and collect" solution that helps businesses regain control over multiple parcel deliveries.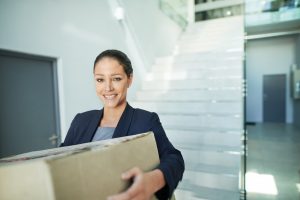 Why Office Workers Love Contactless Smart Lockers for Offices:
Packages are waiting for them, so they don't need to wait for the packages
Email or text message alerts advise as soon as the package is delivered
Confidential access code prevents theft
Touchless automation ensures any corporate safety protocols are followed
Centrally-located
Accessible to users of all abilities and Canadian Disability Act compliant, with a right-height screen, raised "home" dot on keypad, and disability setting to ensure that parcels are not delivered too high
24/7 access for shift workers
Why Managers Love Outdoor Parcel Lockers
Eliminates package pile-up in offices and at front desks
Prevents staff from spending time on internal package delivery
Stops employee congestion during lunch-hour and before/after shifts
Stops unnecessary visitors from entering the building
Helps to ensure physical distancing protocols are met
Fully customizable with 213 colour options
Snaile contactless smart lockers for offices use an open API that can be integrated to your existing operating system and gives managers access to off-site data backups via the SnaileCloud. Here, managers can view delivery histories, recipient usage, and compartment statuses and open up any compartment remotely if there is a need to override the passcode system. For employee accountability, Snaile keeps a full history of your company's logins by user and the transactions each employee has made.
When it comes to your employees, great perks may be important, but safety tops the list. Snaile Parcel Lockers makes safety a top priority by creating parcel storage lockers that exceed industry standards. These systems are made from industrial grade steel and rated to minus 20 degrees Celsius with a cold weather upgrade package available. Search "contactless smart lockers near me" and you may find lockers using a consumer-grade tablet. Snaile lockers, on the other hand, come equipped with an industrial CPU with Windows embedded – the same operating system used by hospitals and airport kiosks. A bank-grade keypad, industrial touchscreen, and security cameras enhance user protection and built-in infrared sensors can detect if something is missing from the locker, or something's in there that shouldn't be.