BOPIS Lockers Make Package Pickup Easy & Accessible
Consumers love to "Buy Online and Pickup In-Store" and for many it is the preferred way to shop. After all, what could be more convenient than browsing online and buying from the comfort of home, and then picking up the purchases when it suits your schedule? No wonder BOPIS solutions are taking over the Canadian marketplace!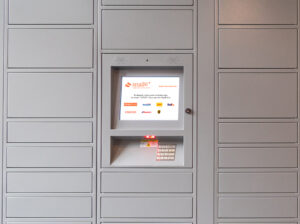 Business owners already know that BOPIS retail is here to stay and rapidly growing in popularity. Smart retailers are ahead of the wave and have already installed BOPIS ecommerce solutions including digital parcel lockers that make it as easy as possible for shoppers of all abilities to retrieve their purchases. With more than 20% of the Canadian population identifying as having a disability, the need for accessible BOPIS solutions has never been greater. Digital parcel lockers are an excellent example of solutions that provide easy access for shoppers to pick up their online purchases, regardless of any physical limitations.
How Snaile Leads the Way in Accessible BOPIS Retail Solutions
Snaile Parcel Lockers offer a variety of BOPIS ecommerce solutions that provide safe, secure and accessible convenience for shoppers and all Snaile digital parcel lockers are compliant with the Canadian Disability Act:
Right Height: Snaile digital parcel lockers feature a "right height" keypad and screen that are designed to be easily accessible to individuals using mobility devices such as wheelchairs or scooters
Raised Dots on Keypads: With a 15-inch industrial touch screen and a commercial keypad with raised home dot, Snaile ensures their lockers are easy-to-use for consumers with varying visual and physical disabilities
Disability Setting in Cloud: This feature helps to ensure that a package is never stored out of reach. The Cloud setting actually eliminates the chance of human error by automatically setting the system to only enable deliveries to accessible compartments for units occupied by a person with mobility issues. As a result, the user never has to worry about parcels being out of reach
Remaining competitive in today's retail market means keeping up with the latest consumer demands – and that includes fully accessible BOPIS solutions. Smart parcel storage lockers are a necessity and must be easily and equally accessible to everyone. Snaile Parcel Lockers are compliant with the Canadian Disabilities Act and provide ease-of-use for people of all abilities. This smart locker will have the correct screen heights, a raised 'home' button on the keypad for the sight impaired, and a disability setting in the Cloud to ensure packages are not stored too high. For convenience, security and accessibility, Snaile parcel storage lockers meet or exceed all of these requirements.
Learn more about BOPIS retail delivery and storage lockers that allow you to accommodate customers of all abilities.